Elunevision Ref Studio AudioWeave 4K In-Ceiling Tab-Tensioned Screen
Order in the next to get it by
Viewing This Product
AudioWeave 4K In-Ceiling Tab-Tensioned Screen
No compromise.
Choose AudioWeave for Superior Audio Transparency
The reason competing accousticly transparent screens don't perform as well as Elunevision AudioWeave is because the perforations are way too large and much too few in number. With over 2000 holes/in2, AudioWeave has over 3x the holes per square inch than common mid-range weave materials and over 33% more holes per square inch than our nearest performance competitor. This graph shows that the Reference Studio AudioWeave 4K follows the original speaker frequency response very closely, with less than 0.35dB attenuation on average – an industry-best.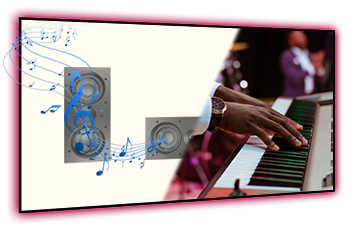 Mind-Blowing Audio Performance with Exceptional Image Clarity
Our specially engineered woven screen material allows content to be projected with near perfect pixel accuracy. This means you'll enjoy bright and clear images, with better contrasts and more vivid colors, without losing out on sound quality.  The microscopic holes in AudioWeave screen material allow for less than 2% light loss which is compensated for by using a higher gain material.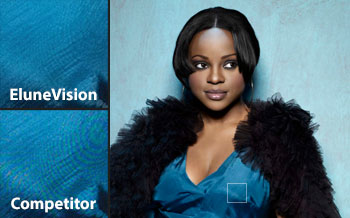 Material Orientation Eliminates the Moiré Effect
When dealing with weaved screen materials, moiré effect is a common issue that can ruin the image quality. Those strange patterns are caused by the screen material texture aligning with the grid pattern of the projector. To solve this, our signature AudioWeave material eliminates moiré by rotating the weave of the material out of alignment with the pixels. Combined with a finer pattern than the projected pixels, it completely eliminates the moiré effect.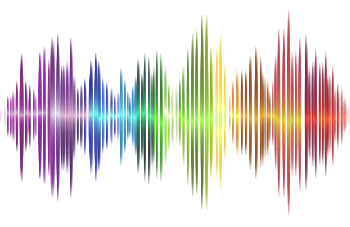 Acoustically Transparent for a Truly Immersive Experience
After years of research we've engineered a material that allows a complete transparency of all audio frequencies passing through, exactly as they came out of the speakers. Your screen will not distort the sound quality while still delivering reference image projection. Complete audio transparency means that you can hide the speakers behind the screen and without any compromise in quality.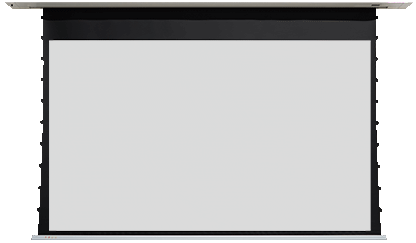 In-ceiling Installation for Ultimate Invisible Integration
Integrating your motorized screen into any room has never been so easy. Our all-aluminum casing and unique mounting solution allows you to place your screen flush inside the ceiling without hassle, and with no drywall patching required.  The screen can be mounted using a variety of methods, including steel rods, aircraft cables, or by direct bolt-on method.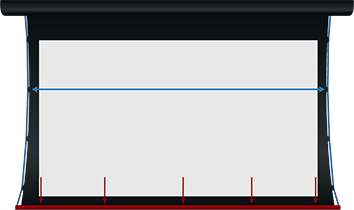 Smooth Projection Surface with Pure-Flat Technology
Creased and wrinkled screens are a thing of the past with our Pure-Flat Tensioning System. It involves two tensioning stages: first we've added a heavy-duty steel weight bar at the bottom which provides vertical tension of the screen. The second stage uses tabs held under tension by aircraft cable at each side, providing horizontal tension. Together, this ensures a smooth surface, preventing curling and delivering a wave-free screen for years to come.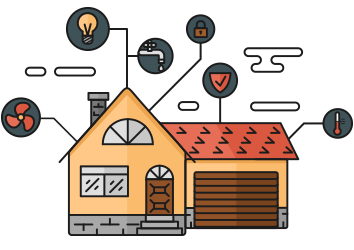 Seamless Integration with your Smart Home System
Your home automation system controls everything around your house, so why should your Home Theater be any different. By including a motorized screen into your household you will be able to manage and control everything from your favorite control system. Our motorized units feature a conventional 12V trigger that can be used on other devices as well.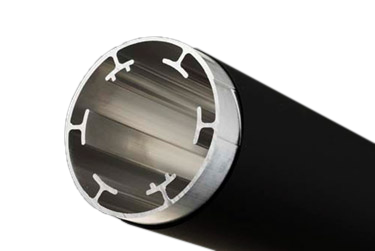 Enjoy the Benefits of Precision Engineering
The screen material is rolled onto a large diameter roller tube, making the screen surface flatter, as there is less curvature in the material when it is rolled up, versus the much smaller roller tubes commonly employed by most other screen manufacturers. It ensures that the screen surface is wrinkle-free and without any distortions to create the ideal surface for the movie to be projected upon.
Savour the Experience of Cinematic Perfection
The thrill of the the latest action movie.  The seduction of a fine art-house classic.  The chill of a creepy thriller.  The art of the cinema is only truly known when you are able to let go of reality and slip into another world.   Let the lights and sounds envelop you and transport you across time and space.
Sizes and Specifications
High Definition Format (16:9)